When we were buying a travel trailer to live in full time, we never even thought of travel trailer insurance. Come to find out it is very important, even if you don't move it at all! So how much does it cost for stationary travel trailer insurance for full-time RV living? I called up a worldwide RV insurance agency and this is the information they gave me…
Stationary travel trailer insurance costs around $431 per year. This depends on the agency, how long you have been a full-time RVer etc… This policy includes, but not limited to, emergency expenses up to $7500, personal effects, roadside, disappearing deductibles at 25% per year, liability up to $50k per person and $100k per accident.
Let's break this down further…
Specifications for full-time stationary travel trailer insurance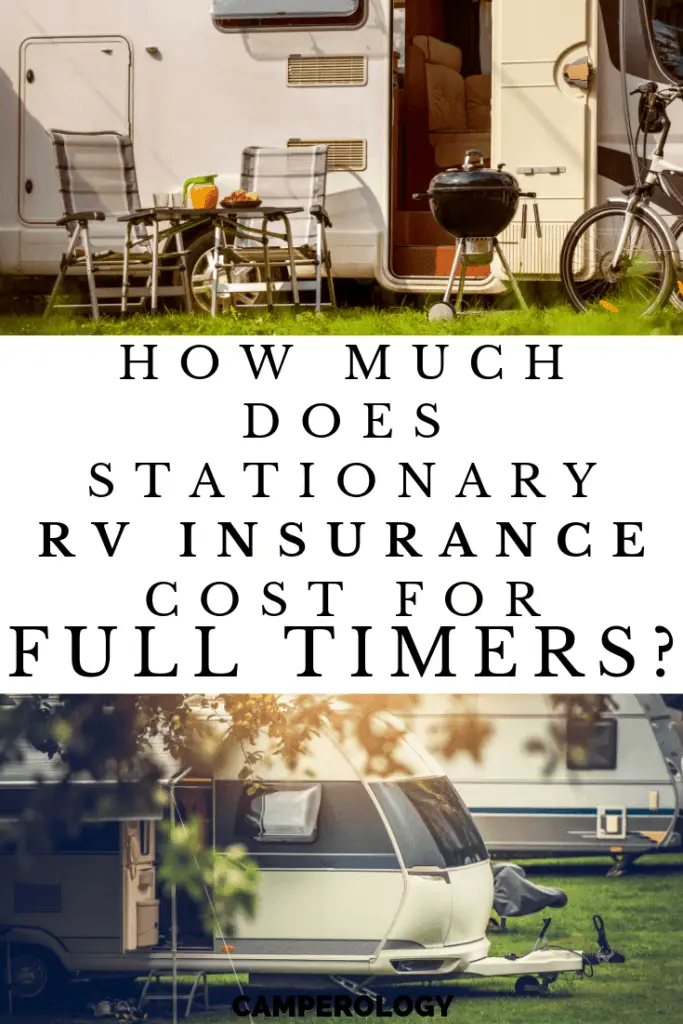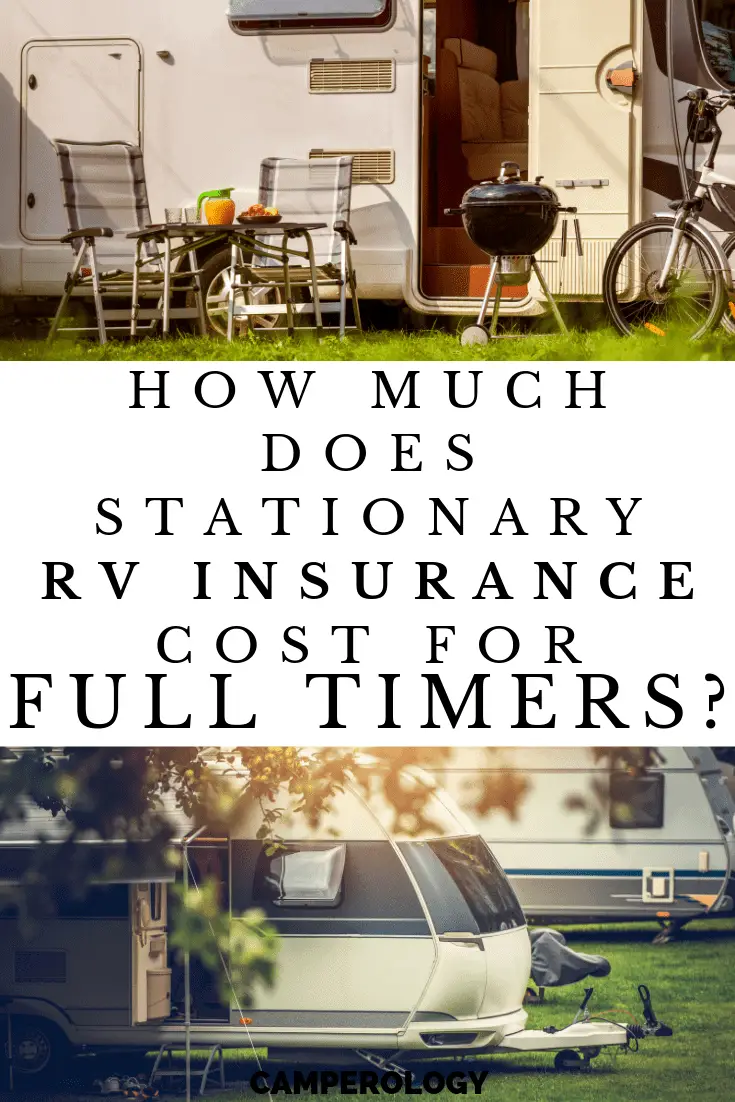 When I first got on the phone with someone they immediately asked me questions to further understand my needs and what kind of policy to give me. (Full-time stationary RV insurance)
Typical questions the insurance agency will ask:
My full name
Birthdate
What kind of RV I own
My answer: Travel Trailer
My answer: 1 month
The year, make and model of my RV
My answer: 2005 Fleetwood Terry Dakota
If I continuously obtained auto insurance for the past 6 months
My answer: No
The cost of my RV (how much I purchased it for used)
My answer: $2500
My partner's information (any other adults that reside in the RV with you)
Do we plan on ever moving the RV
My answer: Not at this time, no.
Will we move the RV in the case of a natural disaster
My answer: Yes
Do we have a tow vehicle for the RV
My answer: No, we do not own a tow vehicle.
Are there any other vehicles I own that are insured at this time
My answer: Yes
How will we move the RV if we need to
My answer: A friend
My answer: 27′
All of the questions will be answered differently given your unique circumstances.
I am going to assume if you landed on this page your answers will be similar to mine depending on a couple of personal factors.
What does full time stationary travel trailer insurance include?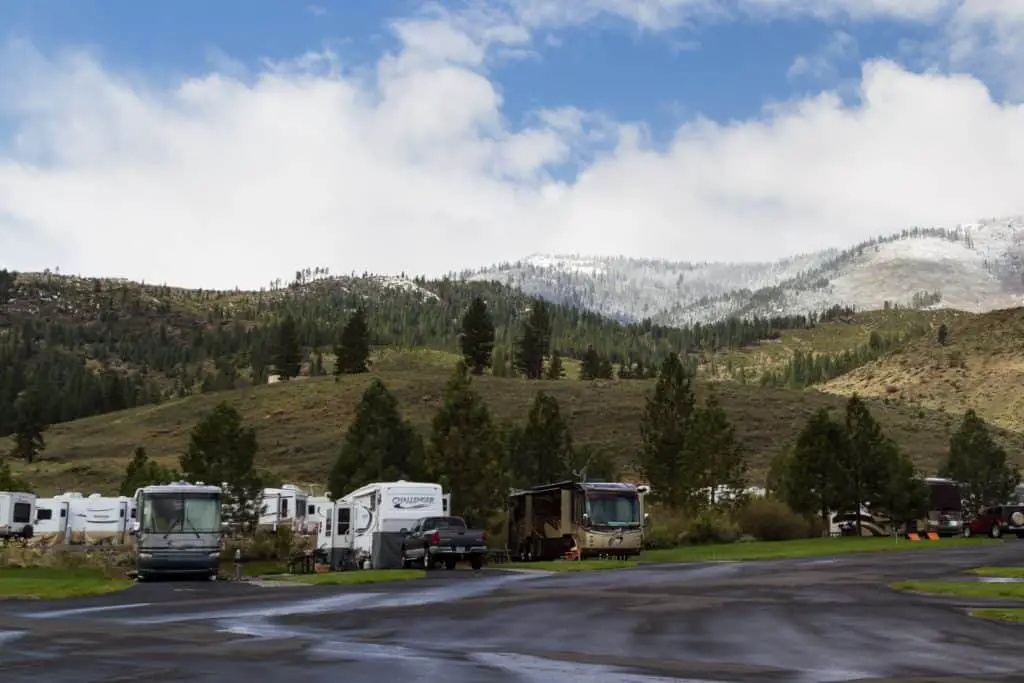 Deductibles are as followed:
$750 deductible for comprehensive claims. (natural disasters)
$750 collision deductible. (accidents on the road)
What's included in the yearly price?
Disappearing deductibles at 25% per year. Provided you are accident and claim free.
First timer discounts.
Emergency expense up to $7500 – includes travel, lodging, and meal expenses.
Personal effects – any and all personal belongings inside the RV
Full timers package liability per person (when someone is injured inside or outside of your RV) covers up to $50,000
Full timers package liability per accident (when multiple people are injured inside or outside of your RV) covers up to $100,000.
Road side assistance
How do you pay for the policy?
Once you have come to an agreement on what will be included in your plan. You can pay for the policy on the phone with your debit card.
Our first payment was $138.25
Once we paid the initial payment to get started, we were automatically covered.
After making the first payment, you will then be making three consecutive payments of $139.25
Once you have paid your third payment of $139.25 you have officially paid your yearly stationary full time RV insurance in full!
Make sure you renew your Travel Trailer insurance every year. I would set a reminder on your phone, or look out for a phone call from them shortly before your policy is up.
Which insurance companies cater to full-time stationary travel trailer insurance in the US?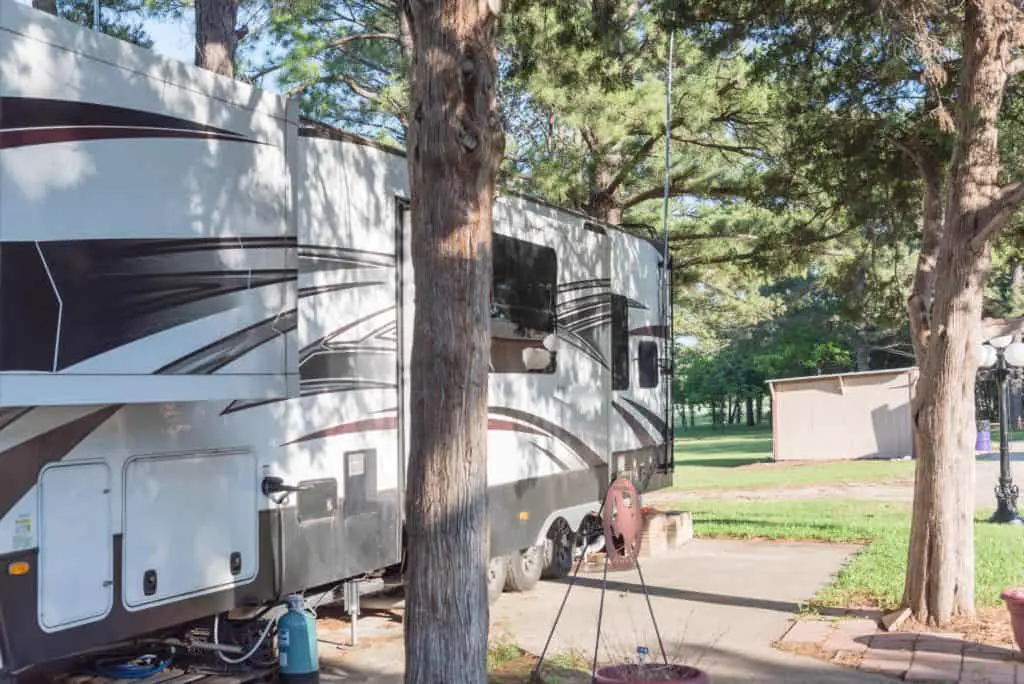 Once the very nice and helpful women on the phone gave me my policy benefits, I asked her which company the information was from and if there are any other options.
The answer was quite interesting.
There are only 2 companies in the entire united states right now (2019) that cover stationary full time RV Insurance.
They are:
Thats it!
The company who gave me the best quote was Progressive.
But be careful!
If you go through progressive independently the policy prices are way more.
Stick to going through a reputable Insurance Agency who has the expertise to find you the best policy for your money, compare the two companies quotes based on the information you gave them.
They will also be able to give you discounts just for going through them specifically.
The Best full-time stationary travel trailer insurance agency to go through
You can save an average of $389 a year with Good Sam RV Insurance agency!
I have found that Good Sam RV Insurance Agency is perfect for finding you the policy you need.
This company in particular has been doing business for over 80 years.
They not only get you discounts but they also are able to compare the prices and benefits based on your individual needs.
They use their magic computers and it automatically finds you the best price with the most benefits!
The women on the phone answered every single question, did not seem impatient, and was kind and courteous.
This is not even a sponsored post! (but if they want me to sponsor them, I don't mind ;))
I just genuinely recommend them to anyone looking for stationary full-time Travel Trailer insurance.
When calling Good Sam for the first time you will be connected with a general operator for the company who will ask you a couple of questions.
Then he will connect you with someone specific to your state.
Here are some of the awesome benefits and add ons you get with this particular RV insurance agency…
Full timer coverage
The Good Sam Vehicle Insurance Plan features Full-Timer Coverage designed to provide protection to RV'ers similar to how a homeowner's policy protects for things that happen in and around a home. 

The Full-time Protection Plan covers personal liability losses, other than in an auto accident.
This coverage is provided worldwide.
The full-time protection plan is available to people that use their RV 6 or more months out of the year and DO NOT own their primary residence.
Total loss replacement
They have optional Full Replacement Cost Coverage; if your RV is totaled or stolen (and not recovered) and it's within the first five model years, it will be replaced with a comparable, new RV, even if you're not the original owner.
After the first five model years, you will receive your full original purchase price – not a depreciated amount – toward the purchase of a replacement RV.
These guys will even help you pick one!
Permanent attachment coverage
In addition to standard insurance coverage for your RV, they offer Permanent Attachments Coverage at no additional charge. 

They automatically insure permanent attachments for the full amount it would cost to replace them. (not the depreciated amount)
Attachments and accessories like awnings, levelers, tow kits, stairs, and antennas are covered for their full amount at no additional cost to your policy.
Bundles and savings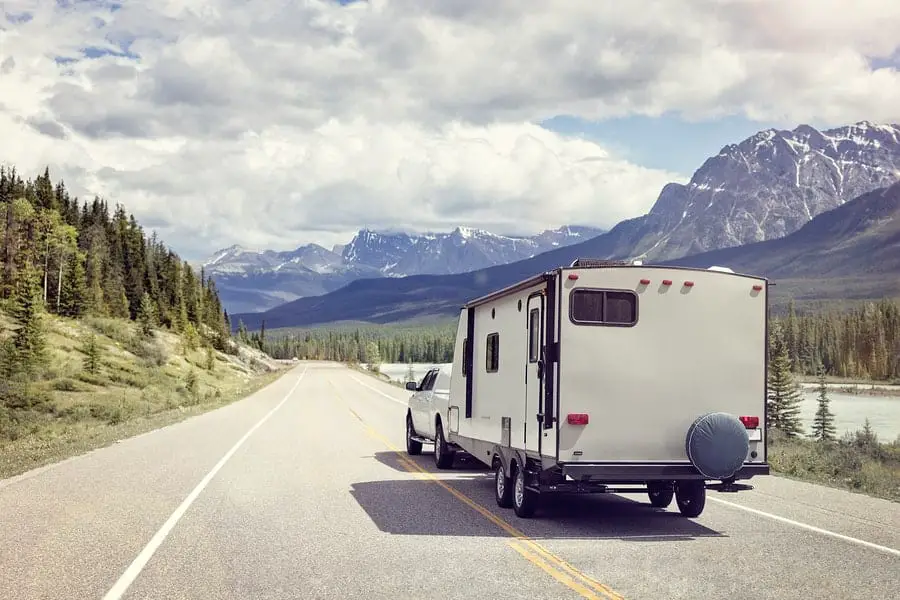 Good Sam protects not only RVs.
They are experts at insurance everything that comes with the RV lifestyle!

Autos & Tow Vehicles – They can cover your other automobiles and tow vehicles on the same policy as your RV.
If you ever have an accident while towing your RV, your auto and RV claim will both share a single deductible.
Not to mention when you bundle your automobile with your RV policy, you can save up to 53% on your premiums! (source)
15 Stationary RV Living Must haves:
If you found this article How Much Does Stationary RV Insurance Cost for Full Timers? helpful share it with someone who may benefit from it as well 🙂